Tara on the main A836,
just outside Altnaharra
At the stone circle near Beer in Devon
- the "Solstice Watchers"
Tara rides on the Seaton to Colyton tram.
We are delighted to announce the engagement of our daughter, Hannah, to Ben Steele.
Further details to follow as they emerge!
Ben is a teacher and Special Constable, orignially from Newcastle and now living and teaching in County Durham.
Hannah and Ben met at Edinburgh Napier University and have been together for a few years now. They weathered Covid apart, which says a lot!
We're genuinely delighted and very excited to have Ben join the family.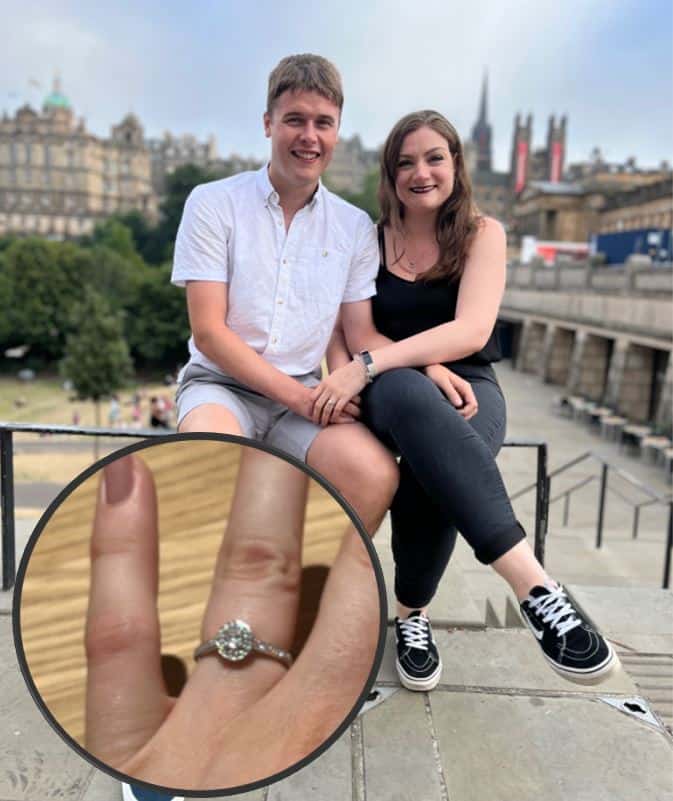 Hannah and Ben on the day of their engagement in
Edinburgh Princes Street Gardens.

June and July 2022

We had a complicated June, starting with lots of sittings and Hospital of God stuff leading up to a (now almost traditional) visit to Beer in Devon for the Solstice. It was a terrific journey down – it's quite a long way – and we got to our cottage in excellent time. This time we'd upgraded a bit and had a really lovely cottage in Beer through Original Cottages (www.originalcottages.co.uk). It was beautiful, very comfy and with beautiful décor and excellent equipment. Furthermore it had its own parking spot and those are like hens' teeth in Beer! Last year we had to spend a fortune in a public car park and carry our luggage and Tara clobber a very long way! Having our own spot right next to the cottage was wonderful! This year we DID get to see the solstice from Mike's very own stone circle (check out last year's entry in the archive if you don't know what we're talking about). It was a beautiful evening with a cloudless sky. Amazing to see the stone circle "working properly". Lois had a Teams meeting on one of the days, so Ian took Tara on the tram from Seaton to Colyton – her vist trip on a tram, and actually the first time on any public transport. After the first five minutes of not being sure, she found it great. It was a lovely holiday catching up with Mike and Carol again and just doing tourist stuff! While we will be going to Beer again next year, we can leave it later in the year next time because we've seen the solstice properly!

At a checkup with the vet, Tara was found to be losing weight and we got some very clear and unambiguous dietary advice: "Take her off raw meat NOW". We thought that raw food is a good thing, but apparently not … not for greyhounds anyway! So she went onto Pedigree Petfoods dry food and after a couple of weeks is now back to her "proper" weight with a very sleek coat to go with it. Note to selves … don't be taken in by advertising rhetoric! You'd think we'd have learned by now!

The Lord-Lieutenant succumbed to Covid so Ian got to go to some really interesting official events, such as the Fire Brigade Long Service Awards which was great fun.

July started with Sunderland's graduations, which were back to normal after a couple of years of zoom events. It was absolutely super to see students crossing the stage again and the atmosphere is undiminished. On one of the days, Prof Peter Smith got his honorary Doctor of Technology which was richly deserved and great to be part of.

When Ian was at university, he became good friends with three people (as well as Lois of course) and they shared a flat together – Barnes G3 for those who know Keele. Back in 2018 Helen – one of the four flatmates – set about trying to get a reunion of the four of us, plus Lois who was around at the time, plus the partners of the others. That was before Covid struck of course. In July we finally got together for a wonderful evening of alcohol and reminiscences. It only took four years to get together! As Helen put it, "It took a global pandemic to keep us apart". The evening was magical, actually, with super food, plenty of drink, and very, very good company. We suspect that those memories will stay with us for a long time!

We also caught up with some family who design and manufacture farm machinery in Essex! Well, you do don't you!

Then we got to enjoy our house and garden as the children broke up for their school holidays and we stayed at home! Lots and lots of little things to do, but that's always enjoyable stuff.